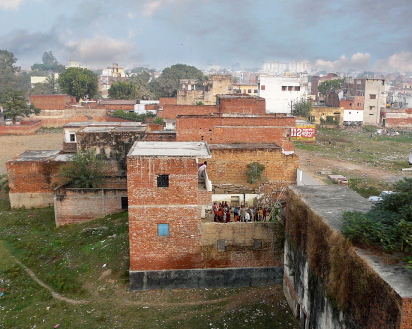 In Varanasi's red light district, the children wear clothing that comes apart at the seams; thin pieces of rope hold up pants that long ago lost zippers or buttons. The victims of human trafficking and sexual slavery are not only those who are directly trafficked and forced into prostitution; their children are also severely debilitated by unstable households, by exposure to domestic violence, and by social stigmas against the children of sex workers that limit their educational prospects. Most girls are forced to become prostitutes, while most boys become pimps.
The children of the brothels are young, and some of the youngest walk to school carrying their infant siblings past their mothers calling out to men on the streets. But once inside the safety of the school's gate, away from their difficult home environments, their eyes light up. They run to pick up volleyballs or stuffed animals and begin their few daily hours of escape.
The school is a non-formal education (NFE) center run by Guria Sansthan, a grassroots organization based in Varanasi, India. Guria takes a multifaceted approach to combating sex trafficking: empowering children to escape the cycle of sex slavery by offering them creative outlets, funding their education in mainstream schools, and providing free legal counsel for victims of trafficking.
AJEET// The Visionary
Twenty years ago, a young man named Ajeet Singh began to advocate against the forced prostitution of women and children. Through legal battles against human traffickers, awareness campaigns, and poverty alleviation initiatives, he has positioned Guria Institute at the forefront of the fight against sex trafficking in South Asia. Ajeet stresses the importance of art and love as the forces that will bring peace to the world. He refuses to rest until every child is free to live a vibrant and creative life.
MANJU// The Matriarch
Manju, Ajeet's wife, grew up in an orphanage, where she learned the importance of love and attention in a child's life. She is a strong and fearless woman, who once received 44 death threats in one day for testifying against a sex trafficker. She picked up the 44th call and challenged, "If you are so bent on killing me, come then. Come rape me. Come kill me. My husband is not home, my father is not home. I'll even open the door for you." She received no more calls. Recounting the story later, she smiled and said, "You see? When you are honest, everyone is afraid of you." She and Ajeet have a free-spirited four-year-old daughter named Barish.
ANU// The fighter
A 20-year old with an unyielding faith in God, has been a full-time teacher at Guria's education center since she turned 18. If she hadn't found the job, she would have been forced to become a prostitute to support her family. The children of the center mean everything to her, and she is willing to risk her life to work there. The previous teacher was shot to death, and another woman from the neighborhood who had been cooperating with Guria was killed in a kitchen fire – a common way to carry out murders in India without attracting suspicion.